Advertise your site with email
Practical Internet, 2001
(Please note that some information included in this article is now outdated, so for the latest situation, please contact us.)
E-mail can play a leading role in supporting your web presence. Clive Hawkins offers some advice on harnessing this powerful tool whilst avoiding the potential pitfalls.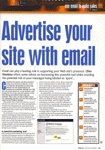 Considering the expense and effort involved in setting up an e-commerce website, it's not surprising that the potential of e-mail to help generate new and repeat business can sometimes be overlooked. Although your website is the virtual 'shop-front' of your business, e-mail can play the role of your sales and customer service staff, offering personalised contact with your customers. This, in turn, can help to build a 'one-to-one' relationship with them and retain their loyalty and custom as your business develops.
Many people tend to think of the Internet in terms of websites (the World Wide Web), but e-mail is the more widely used application. In both private and business use, e-mail has enormous benefits as a fast and low-cost communication tool and it can be used in many creative ways to effectively support an online business.
You should plan on ways of harnessing the use of e-mail as a marketing tool, depending upon your target market and your objectives. However, with issues of privacy and intrusiveness at the forefront of many user's minds, e-mail can also raise high emotions. So be warned! If you don't handle your e-mail marketing strategy with care, the backlash from prospects or customers can cause permanent damage to your business.
A powerful marketing tool
Every company should maintain an up-to-date list of its customers and prospects and this is no different for an online business. You have numerous opportunities to collect information and e-mail addresses of customers and visitors to your website. This information can then be used as the basis of your e-mail marketing campaigns and can serve any number of roles, such as notifying customers of special offers when you want to boost sales of a product, to offering valuable information as part of your customer service, or researching user's views over an issue related to your business.
As explained later, it is vital that your e-mail campaigns are only sent to those customers who have stated that they are willing to receive your messages. You can achieve this initially by offering something of value in return for their details, such as a regular newsletter containing tips and advice, or advance notification of new product lines or special deals. Autoresponders can also be used to collect e-mail addresses in return for some useful information.
By providing an opportunity on your site to incentivise visitors to register their details, you can build a valuable list that can be contacted regularly to help keep your website 'top of mind' and encourage repeat visits to your site.
Customer service, 24/7
Apart from the telephone (yes, remember the telephone!), e-mail can be a vital tool to help you communicate quickly and efficiently with your customers. Any visitor to your site may wish to ask a question or place an order, so an immediate automated reply, thanking them for their contact, can be an essential mechanism to help confirm that their message has been received. This must then also be followed up as quickly as possible by an answer from a 'real' person.
However, don't get complacent about the use of e-mail as a customer service tool. You need to establish standards to make sure your customers receive a response within an acceptable time period. And don't overlook the quality of responses being sent out. Just because e-mail has become a casual form of immediate contact with many people, it doesn't mean your business should also be represented by abbreviations, incorrect spellings and poor grammar. You should insist that any e-mail correspondence represents your business in the same way that a more traditional letter would.
Signature files should be used in a consistent format on all e-mail messages from your company, containing a contact name, address and telephone number, plus one or more appropriate links into your website.
Permission-based marketing
Your policy regarding use of customer e-mails should be open and transparent. Make sure that anyone contacting you from your website is aware of your commitment to their privacy. You should set out your policy so that anyone submitting their details can see how you will protect their details or what plans you might have for future marketing activity, either for your own business or by third parties. Every customer should then be given the option to click a box to indicate how they may, or may not, want their information to be used.
There is continual debate over the use of 'opt-in' or 'opt-out' techniques to allow web users to actively request further correspondence or not. Whichever method you decide to use on your site, the core principle should be that whenever you do collect and record an e-mail address that may be used for marketing in the future, the provider should always be aware what you may be doing with their details and be given the option to agree or remove themselves.
In addition, any future marketing correspondence to recipients of your e-mail marketing messages should always contain an opportunity for them to remove themselves from your list with minimum effort. Such requests should then be handled quickly and accurately.
Treading carefully
All the issues of privacy and intrusion should not be ignored. Your database of e-mail contacts is a valuable resource if used correctly, but it can also create significant damage to your business if you abuse the trust of your customers. The use of 'spam', or unsolicited and unwelcome e-mail, can raise high passions with Internet users. You will constantly be walking a narrow line between giving your customers what they want and appreciate, to being pilloried directly or, even worse, being the target of public anger on a widely-read newsgroup because you've overstepped the mark and angered some customers.
If you plan to send out sales messages by e-mail you should begin with your own permission-based lists that must also be current and clean. You could consider renting from the growing number of e-mail lists that are available, but handle any of these with care to ensure that recipients will not be offended by your intrusion into their mailbox.
E-mail messages should always come from a named contact at your company and be personalised to each recipient as best as possible. Never bulk mail a message that visibly includes all the recipients' e-mail addresses, so make sure that the software you use is reliable for large quantities and has been tested first.
Using the right tools
There are many issues involved in running a successful e-mail marketing campaign, not least the ones listed above. There are many useful online resources or books on the subject, so do some research to help you decide whether to use HTML or plain text formats, how often to send messages, whether to include advertising and so on.
Before you can embark on any bulk e-mail campaign however, you need to find the right software. Mailing software tools come in many shapes and sizes and the table shown provides a few examples of some popular versions. Choose carefully, as your database and mailing software will become the nerve centre of your online business, helping you to interact and build a relationship with your customers. But always remember what a brittle relationship it can be and how one simple mistake or oversight can destroy a valuable customer base within seconds.
Also, don't forget to ensure that your ISP is aware of your bulk-mailing plans. Many ISPs will block multiple mailings and even cancel your account, so make sure you know what is acceptable with them before hitting the 'Send' button.
E-mail marketing is an immensely powerful tool that can help you grow your online business if used effectively. To follow the basic principles well, simply remember all the occasions when you have been delighted or disgusted by an e-mail message from a company in the past. Then use those experiences to treat your customers just as you would like to be treated yourself.
Clive Hawkins is an Internet marketing consultant and runs the web search workshop (www.websearchworkshop.co.uk), providing businesses with improved search engine placement, link building and other online marketing support.