Press coverage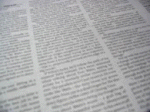 Internet marketing - and search engine marketing in particular - continues to attract a significant amount of press coverage, both in the specialist press and in the national media.
In this section of the site we feature a selection of press releases and news articles.
Please follow the links below to read the full articles:
The following articles were written by Clive Hawkins for a series of features in Practical Internet magazine in 2001:
If there is any other information that we can help you with to enable you to market your business effectively online, please contact us now.