Turn site users into loyal customers
Practical Internet, 2001
(Please note that some information included in this article is now outdated, so for the latest situation, please contact us.)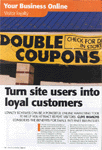 Retailer loyalty schemes are not a new idea but they can still be a powerful online marketing tool. Clive Hawkins considers the benefits for e-commerce websites.
In the face of increasing competition on the web and the need to both attract and retain customers, loyalty schemes should be an important part of your e-commerce marketing strategy. Such schemes have been around for many years in differing formats, from Green Shield stamps or glass tumblers from petrol stations, to the more sophisticated supermarket schemes and frequent flyer programmes.
Although the effectiveness of such loyalty schemes has long been debated, the basic idea remains an attractive proposition for any retailer. Many schemes have indeed proven to be extremely effective, particularly for those that are first to the market.
The loyalty concept is a simple one – offer your customers an incentive to buy from you on a regular basis and, in return, reward them with something of value for free. This way you are keeping your store in the forefront of the customer's mind when they do want to buy again, plus you are locking them in to your business, rather than losing them to a competitor. It's a well-known fact that the costs of acquiring a new customer are much higher than for keeping them, so loyalty schemes can play an important role in customer retention.
However, don't forget that there are other important factors that will make your website attract and retain loyal customers. Having a site that loads quickly, is easy to use and has clear navigation are vital, whilst competitive prices and excellent customer service can also be overriding factors, regardless of what type of loyalty scheme is being offered.
Capturing user data, creating user profiles and sending out regular e-mail newsletters or offers can also draw customers back to your site. Yet these may be insufficient methods of developing repeat business and the appeal of a loyalty programme can still be a significant attraction.
Do it yourself
If you're going to invest time and money into setting up a loyalty scheme for your online business, you'll need to investigate the benefits and consider what will actually make your customers keep returning. Some e-commerce sites, such as the men's store Mgender (www.mgender.com) have developed their own loyalty scheme as part of their business model to try and retain valuable customers and get them to spend more.
However, such schemes require a good underlying system to monitor spend and reward points for each customer. Additional points might also be offered through non-purchase activities, such as receiving a regular e-mail or introducing a friend to the site, but rewards are viewed by the customer as 'money' and therefore the management system needs to be reliable and accurate, as well as automated.
Joining a network
If you don't want to set up your own loyalty scheme, there are a number of merchant networks whose members all offer and accept the same rewards. Most of these involve currency-based schemes, where points or tokens are "earned" either by spending money, or by other actions, such as registering to join a scheme, receiving promotional e-mails, completing questionnaires or entering competitions. Accumulated points can later be "spent" at any other store participating in the scheme.
The advantages of joining a network programme are that e-commerce sites can benefit from lower infrastructure and reward costs, as well as take advantage of stronger cross-promotional opportunities within the network. These factors, in turn, should offset any possibility of reduced loyalty to an e-merchant's specific brand and result in a higher material return.
Proceed with caution
Before you join any network scheme, you need to ensure that the incentives for your customers are relevant and attractive. The reward levels should also be achievable, without your customers having to spend countless hours on the web or spending hundreds of pounds!
In addition, the loyalty scheme should be easy to understand and implement, plus offer real value to your customer, whether or not they might redeem points with you or another merchant in the network. It is important to review the other retailers who are in the scheme and, even though they might not be direct competitors, to consider how well their customers might also match your own customer profile.
Get some idea – and proof – of the traffic generated by the scheme and the number of signed up members who are actively spending and redeeming their rewards. Most importantly, try to join a scheme that you believe will be long-running.
The spate of loyalty scheme closures in the past few months - including the flagship 'Beenz' currency scheme - has caused uncertainty about the viability of such networks. Such discontinuations can create ill-will for your customers if they are left with useless credits that can no longer be used, so ideally if a network does close, then the points will be transferred to another partner scheme.
UK loyalty schemes to consider.
Currently these are the two leading loyalty schemes in the UK:
ipoints – with the demise of Beenz, ipoints (www.ipoints.co.uk) has become the leading e-commerce loyalty scheme in the UK. Their recent acquisition of the Webrewards and Surfmiles programmes has further strengthened the dominance of ipoints and therefore they are well-worth considering as a serious marketing investment.
MyPoints – the other leading rewards scheme in the UK is MyPoints (www.mypoints.co.uk) which is based on a highly successful US model. It launched in September 2000 and expects to have 200,000 members by the end of the year, all of whom can earn points from activities ranging from reading e-mails to completing questionnaires. Member information is then used to drive a permission-based marketing database and in return, members can earn points and exchange these for vouchers from participating merchants.
A number of other schemes are also running, including ePoints (www.epoints.co.uk) which is run by NetBanx, the secure online payments operator. Merchant membership is restricted to Netbanx customers, which currently exceeds 1,000 shops and customers who purchase from any them collect ePoints which may be redeemed against an online catalogue of products.
Clickmiles (http://uk.clickrewards.com) was set up by BT Internet who have teamed up with the German-based ClickRewards programme. Customers collect ClickMiles by clicking on a variety of tasks on participating merchant sites and, in return, they can be redeemed for goods, hotel stays and frequent flyer air miles.
ClubiPoints shoppers sign up for a Clubishop Card (www.clubishop.com) which can then earn them credits when they buy from stores in the ishop online shopping centre. These credits may then be used to make payments, either partially or in full, at any of the participating stores.
Making a long-term commitment
Whether you decide to start your own scheme or join a merchant network, implementing a loyalty scheme has to be a long-term commitment to be effective. Therefore it's essential to take the time to plan in detail how you intend to use the programme and how to measure success.
Such planning now can ensure that you don't create the opposite effect of a loyalty scheme by aggravating your customers in the future! Think through the whole process carefully, work out the economic viability and consider the benefits of developing a scheme, both for your marketing strategy and for your customers. Finally, don't forget to plan ahead so that if the scheme doesn't work, you consider how to withdraw it and still maintain the goodwill of your customers.
Online shoppers are a fickle market and changing store loyalties is so much easier on the web. However, by using a well-planned loyalty scheme in combination with all your other marketing activities, it can create a strong bond with new customers and make them valuable repeat customers in the future who will also recommend your store to their friends.
Clive Hawkins runs the web search workshop (www.websearchworkshop.co.uk), a search engine placement consultancy helping small and medium-sized companies in the UK attract customers from search engines and directories.