Get listed at online shopping malls
Practical Internet, 2001
(Please note that some information included in this article is now outdated, so for the latest situation, please contact us.)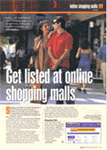 Once you launch your shop on the web you need to attract customers and there are few better places to start than by joining online shopping malls. Clive Hawkins explains why these can help your business and suggests some of the best routes to take.
Shopping on the web is becoming big business in the UK. The past 2 years have seen an explosion of new online stores all trying to emanate Amazon's success, yet making a profit remains a considerable challenge and failure is all too common.
Launching an online store presents similar challenges to those faced in the 'real world'. Whereas 'footfall' is vital for any High Street store, 'clickthroughs' are the lifeblood of an online presence, so your marketing strategy is crucial. One key area to consider is building links from other websites that will direct prospective customers to your site.
A vital source of such links will be from online shopping malls. These websites are compiled directories of online shops covering a broad range of categories. Invariably, these malls don't sell products themselves but survive as 'portals' for web shoppers, generating high traffic volumes from which they derive revenue from advertising or ancillary services.
The shopkeeper's mantra – 'location, location, location' – is just as true on the web as on the High Street. In the same way that 'bricks and mortar' stores group together to attract shoppers, the same is true for online malls. These offer an excellent starting point for web shoppers to find the type of stores they require.
Shopping lists
Some of the largest online malls contain a huge collection of links to stores, organised by product category. Although new shoppers may begin with popular search engines or directories, such as Yahoo, their lists of UK-based stores can be limited, or quickly become dated.
British Shopping (www.british-shopping.com) claims to be the biggest collection of UK-specific shopping links with over 3,000 sites listed. It is an excellent resource for web shoppers to find a wide range of online stores and should be one of the first places to try and get listed. Over 300 sites are submitted to this resource each month and 80% are usually accepted.
If you run a UK-based store you can submit your site for free within one nominated category. There are additional options that you can pay for, including guaranteed positions or store marketing support. You should provide a meaningful description for your site and enter the main keywords that can be picked up by their search engine, including product or brand names.
Other similar malls include www.ukshopsearch.com and www.eshops.co.uk.
Retailer reviews
A useful development for consumers has been the appearance of online malls providing qualitative assessments of each store. These are provided by the site editors or from shoppers who can submit reviews or 'vote' on their experiences of each retailer.
BuyGuide (www.buyguide.co.uk) is an easy-to-use site that offers consumers a chance to browse shops by category or search using keywords. Users can also filter searches by certain criteria, such as stores offering order tracking or a loyalty scheme. Each store listing includes a review from the BuyGuide team and graphic icons indicate a number of services offered. Qualifying for a listing is by no means guaranteed and you need to demonstrate why your store is different and what sets you apart as a unique, quality shopping experience.
There is a detailed submission form on the site that can be completed by any UK store offering secure transactions. You can add details about your service, such as delivery charges or low-price guarantees, and all this information is made available to users who can review your entry and compare your shopping experience against similar stores before entering your site.
Other sites offering reviews include www.kudoshops.com and www.1stopshopping.co.uk.
Secure shops only
Like BuyGuide, many shopping malls will only list stores that offer secure transactions, appealing to online consumers still anxious about sending their credit card details across the Internet to pay for goods.
ShopSafe (www.shopsafe.co.uk) was launched in 1999 and has developed an online mall based on such consumer concerns. It only lists stores that clearly demonstrate this facility and currently includes over 700 sites organised by category. Backed by an agency that develops online stores, ShopSafe also emphasises the importance of design and highlights a 'Top Ten' list of stores that it feels demonstrate the best features of an online shopping experience, including clear navigation and fast download times.
Getting your site listed is dependent on the views of the ShopSafe editors. Only about 10% of the 200 stores submitted each month meet their selection criteria, not least of which includes having secure credit card transactions, prominent prices and 'good' design. They also say, rather vaguely, that your site must offer a wide range of products suitable for 'high street' shoppers and demonstrate lower prices than 'regular shops'.
Other malls of secure shops include www.safedoor.co.uk from Securicor and Barclaycard's www.indigosquare.com.
Best on price
Some of the most popular online malls are those promising to find the lowest prices for products across multiple retailers. These sites give shoppers the chance to really save money on the web by hunting out the best prices, mostly for electrical goods, music, videos/DVDs or books.
ShopSmart (http://uk.shopsmart.com) has become the leading player in this category and claims 500,000 visitors each month. In addition to its price comparison service, they also offer a review-based directory of secure online stores, with each entry having an independent commentary and 'star rating'. Because of the traffic volumes using ShopSmart, this is a significant site to obtain a listing on, although it's now harder to achieve since they reduced their selection to a maximum of 1,000 stores.
Submitting your site is free, although you must then just sit back and hope for the best! They list 14 conditions that your site must achieve as a minimum - many of which are also valuable guidelines for setting up a quality online store. In addition to these, however, your site will be reviewed and rated on ease of use, product range, customer service and quality of shopping experience.
Other price comparison sites include http://uk.kelkoo.com and www.dealtime.co.uk.
This week's special offers
A number of malls feature special offers, promotions or competitions being run by web stores. In doing so, they aim is to attract regular users back to their mall, whilst for shop owners it can be a good way of boosting your business in quieter periods or promoting special campaigns.
2020Shops (www.2020shops.com) includes a directory of 2,000 reviewed shops, but also provides users with details of current special offers or store competitions. These are featured on their Home Page or can be included in a weekly newsletter to shoppers.
To get listed on this site you need to complete their submission form with details about your site, including features offered. The review team will add your site if it meets their criteria, but it can also benefit your listing if you can suggest a competition or price promotion for 2020Shops visitors. Then, whenever you want to boost more business in the future, simply submit a separate form to provide details of any short-term or permanent special offers and these will be considered for the site's offer pages.
Another mall featuring special promotions is www.shopandwin.co.uk.
The Regent Street effect
Although all the previous sites covered are specifically online malls, you shouldn't ignore the major ISPs, such as Freeserve, AOL or Lineone. These portals are the starting point for thousands of web users and they usually contain a shopping information section that can generate a huge volume of traffic.
For example, Lineone's (www.lineone.net) shopping section has been one of the more extensive ISP lists of reviewed online stores and with a claimed 1.9 million registered users, a listing here is immensely valuable. Having said that, Lineone is now reducing the number of stores being listed to fall in line with many of the other ISPs where resources are focused entirely on profit.
Therefore getting a listing on many ISPs will mean setting up a commercial agreement, such as advertising or some other type of revenue-sharing agreement. Unfortunately, this can favour the big-name stores as such agreements may not come cheap, but if your store can afford it, this is a traffic-building method that should not be ignored.
Other notable portals include www.handbag.com/shopping and http://shopping.guardian.co.uk (both sites currently list reviewed sites).
The above examples illustrate the variety of online malls available and how getting a link to your store may be easier on some than on others. Links from these malls may generate significant traffic to your site, but because many are entirely dependent on their favourable review it can be a good idea to consider their stated criteria even before you set up your online store. These can help give you some excellent guidance on ways to make your store more effective and place you in a better position for an accepted listing once you come to submit your site.
So obtaining links from online malls is a task that shouldn't be ignored, although it can be time-consuming and requires persistence. There are professional companies that can do the job for you and advise on your chances of success, but whatever route you take, just keep repeating those favourite words, 'location…location…location'!
Clive Hawkins runs the web search workshop (www.websearchworkshop.co.uk), a search engine placement consultancy helping small and medium-sized companies in the UK attract customers from search engines and directories.