FREE – A 30-minute marketing report on your website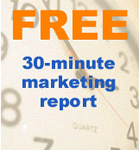 The best way to find out more about our approach and how Web Marketing Workshop UK could help your online marketing is to request our 30-minute marketing report – FREE and with no obligation!*
Simply submit your details by using the form below and we will spend at least 30 minutes reviewing your website and market, before preparing an individual tailored report for your business that will include:
Comments on your online strategy and market positioning
A brief review of your website, looking at its structure, content and functionality
An assessment of your online marketing opportunities, including search engine optimisation, pay-per-click advertising and email marketing
Suggestions on the use of site traffic analysis or other research to help develop and strengthen your Internet activities.
Of course, we won't have access to your historical activity or future objectives and therefore our comments will be based purely on this review from the perspective of a potential site user or customer. However, we will include our recommendations for action that we would suggest could support your online business and this will serve to give you an idea of the approach we would take if you then wished to employ our services.
To request a report for your online business, please complete the details below and submit the form:
30-minute marketing report request
If you have any other questions or need additional information about our services, please contact us.
* This report is provided free of charge and with no obligation. However, Web Marketing Workshop UK reserves the right to refuse applications for this service. Please note that due to confidentiality, we cannot provide assessments for business websites to general email boxes (such as Hotmail or Gmail) that do not appear to be linked to the company. If you do use an email address like this, please also provide some proof of your connection with the website you are requesting an assessment for. We will endeavour to respond to a report request within 2 working days, although at busy periods this will be provided within 5 working days or, if longer, we shall notify you about the delay.