Social media marketing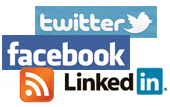 Social media marketing (SMM) is potentially a big new opportunity for many companies to market themselves effectively online. This sector has seen rapid growth in recent years and although it's tempting to simply 'jump on the bandwagon', social media marketing requires careful planning and implementation to be an effective use of resources.
With Facebook now attracting more online visits than Google, this is one example of social media marketing that can't be ignored, but there are other sites too, such as Twitter, LinkedIn, Foursquare, StumbleUpon – and many more – that can give an online business new ways to reach their target audience. However, social media is used differently to search and therefore the strategies and techniques involved can be very different to get the best results.
The Web Marketing Workshop UK has been involved with social media marketing campaigns for clients from the early days. We are also constantly monitoring the new opportunities, websites and services that are evolving so that we can develop new opportunities for online businesses in this sector.
Making social media marketing work for your business
Social media marketing activities can be a notorious drain on time, without generating immediate results, or with the return on investment being difficult to track. SMM therefore requires a different approach to search engine marketing campaigns – a clear strategy needs to be developed, with an understanding of each social media site, the target audience, and the long-term results that are required.
Social media and networking sites tend to involve user interaction and content generation, from the early days of discussion forums and book marking sites, to newer social interaction and location-targeted services. They can therefore provide companies with a platform, as well as a feedback device and a way to interact with their customer base. As social media sites become more integrated with search, they are also a dominant form of online activity.
In this section of the website we focus on 4 main areas that provide opportunities for business websites:
There are, of course, many other mainstream and niche social media sites that can be used for different purposes, including video and podcast marketing sites, and there will no doubt be new services launching as this sector develops.
If you'd like to know more about social media marketing opportunities for your business, please contact us to discuss your objectives, or you can also request our FREE website marketing assessment.